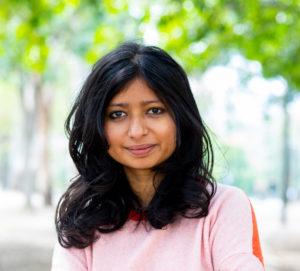 I'm Neha Kale, an Australian writer, journalist, critic and magazine editor. My writing mainly focuses on art, culture, people and places and I'm especially interested in the intersection of journalism and cultural criticism and the ways in which power shapes what we create and consume.
My features, essays, profiles, criticism and reportage have been published widely in Australia and internationally. My work has appeared in or on: The Sydney Morning Herald, The Guardian, The Saturday Paper, SBS, Broadsheet, VICE, Griffith Review, ABC Arts, BBC, Gourmet Traveller, FreundenVonFreunden, i-D, Junkee, The Collective, Open Skies and many more. I wrote a fortnightly column for SBS Life between 2016 and 2018. Prior to this, I contributed regularly to The Sydney Morning Herald's Daily Life.
I edited VAULT, one of Australasia's most respected contemporary art and visual culture publications from 2015 to 2018 and served as the magazine's editor-at-large until late 2019. In 2015, I co-wrote the first-ever Broadsheet Sydney cookbook, published by Pan MacMillan imprint Plum Books. I was also contributing editor to Urban Walkabout, a publisher of popular print guides to urban culture in Australian cities.
I also regularly present talks and workshops about art, visual culture, writing, society and identity. I've appeared at the Melbourne Writers' Festival, National Young Writers' Festival, Noted Festival and Emerging Writers' Festival and have moderated panels and in-conversations at institutions such as the Art Gallery of New South Wales and the Heide Museum of Modern Art. I've also been interviewed about my work on ABC Radio National.
I grew up in Perth, Western Australia, studied Professional Writing and Cultural Studies at Curtin University, where I graduated with First Class Honours, and have lived in Mumbai, London and Melbourne. These days, I call Sydney home.
If you have a question or would like to work with me, you can drop me a line at neha [at] nehakale.com. Alternatively, sign up to my TinyLetter for semi-regular dispatches below.
SELECTED WRITING 
Profiles, interviews and portraits
David Hallberg // Broadsheet
Ben Quilty on Myuran Sukumaran// Broadsheet
Anish Kapoor // Broadsheet
Kelvin Ho// Broadsheet
Sydney Ball // Broadsheet
Gia Coppola//Broadsheet
Benjamin Lowy// Broadsheet
Ken Done // Broadsheet
John Witzig// VICE
Molly Crabapple// SBS
Alain de Botton// SBS
Melina Marchetta //SBS
Pipilotti Rist // MUSEUM
Nick Cave// VAULT
Grayson Perry// VAULT
Lisa Yuskavage// VAULT
Tal R// VAULT
Atong Atem//VAULT
Martino Gamper // VAULT
Dan Perjovschi // VAULT
Kaye Donachie // VAULT
Chicks on Speed X Julian Assange // The Vine
Meghan Daum//Daily Life
Jessica Hopper// Daily Life
Johnny Earle // The Collective
David Goldberg // The Collective
The Broods// The Collective
Jason Atherton//The Collective
Rupi Kaur// The Collective
Will Cotton//The Collective
Jay Alvarez and Alexis Ren // The Collective
Essays, columns and criticism
The Underrated Magic of Walking //SBS Life
What If Our Cities Paid Tribute to Great Women?//SBS Life
The Twisted Logic of 'Go Back to Where You Came From'//SBS Life
Is It Time We Re-imagined the #Girlboss Movement? //SBS Life
The Problem with 'Do What You Love'//SBS Life
Why People of Colour Need to Prioritise Self-care//SBS Life
Is Our Obsession with Ethnic Eating a Sign of Cultural Progress?//SBS Life
Choosing Experiences Over Things Doesn't Make you Morally Superior//Daily Life
In Defence of Female Scruffiness // Daily Life
Can Robots Solve Our Gender Woes?//Daily Life
The Mission to Destroy 'Becky with the Good Hair' Misses Beyonce's Radical Point //Daily Life
The Airbnb Bias: When Racism Happens in Unexpected Places//Daily Life
The Myth of Starving Artist Is Starving Us of the Art We Need//Daily Life
How to Hustle Your Way to Success // Daily Life
Is Sex just a Substitute for Talent? // Daily Life
Is The Lunchbox the Perfect Indie Love Story? // Daily Life
How Many Close Friends do we Really Need? // Daily Life
On Our Adult Colouring Book Obsession  // Daily Life
Four Underlying Lessons from 'Not That Kind of Girl' // The Vine
Reported features and narrative non-fiction 
In Praise of '90s Mallrat Summers//VICE
Welcome to Sydney's Last Ladies-Only Ocean Baths //VICE
Is It Time to Rethink the Australian Dream? // SBS Life
Can Motherhood Make You a Better Artist? //SBS Life
Why We Should Embrace Solitude //SBS Life
Cinema Paradiso // Open Skies
The Rise of Tablet Magazines // The Sydney Morning Herald
Making the Cut// The Collective
Daily Drill // Museum
The Café Modern // Broadsheet
Chasing the White Rabbit // Broadsheet
A Monument within a Sculpture in Japan // Broadsheet
Online Community vs Original Thought // Desktop
PRESS  
Express Media: Spotlight on Neha Kale
Extraordinary Routines: Lessons on Being the Worst Freelancer
Hijacked: How to Make it as a Freelance Writer
Radio National: Is This Magazine Cover Offensive?
2ser Sydney: National Young Writer's Month 
Image credit: Laura Mangen